About Us
ONC NATURALCOLORS
First to offer products without parabens in 2003. And without propylene glycol in 2012. Because ONC's ethos is product innovation, quality, 360° communications, and in-depth training. So this helps deliver high-end products and services. As a result, ONC has an enviable record of accomplishment with its stakeholders.
HOW IT WORKS
Enroll in Program
First, you have to enroll in our program where you enter your information about yourself and mention your platform where you would like to promote our products
Get Your LInk
After enrolling in the program you will enter in your personalized dashboard where you will find your unique referral link also you will be able to track all your referred records like referral customers, clicks, and commission.
Share it
when you get your link then you will be able to share this link on your social platforms like Instagram, Facebook, Twitter etc with our products pictures and videos present in your dashboard (media section).
Earn Commission
Whenever someone purchases through your referral link, you will get a commission and you will be promoted to the next level of our program and your referral commission will go from 10% to 20% and so on.
Our Premium Products
5N Natural Light Brown Heat Activated Hair Dye With Organic Ingredients 120 mL / 4 fl. oz.
ONC Thermal Heat Cap
You can color your hair without having to use harsh, toxic chemicals. ONC Thermal Heat Cap traps the heat that comes out of the top of our head. There is no need to plug or microwave it. The heat that comes from the body is more than enough.
ONC has a proven record of accomplishment with its stakeholders.
Hulya Kaya founded eco–friendly ONC. Because of her passion for using healthier organic products. Bahar Sakoglu's tenacity and innovation helped grow the company. As a result, it became a leading brand in organic beauty products. It now spans three continents.



I was looking into organic hair dyes but wasn't sure about their ability to actually cover grays. This product is amazing ! Not only did it cover my grays, it actually managed to covet the stubborn ones too ! I am so happy with this product that I would happily recommend it to any individual that's looking for a product without the harsh chemicals and odors of other hair dyes and that want FULL gray hair coverage !
Diana M.
CUSTOMER

Very happy with this ORGANIC hair dye. Finding a product that is free of chemicals that will actually work has been difficult. I ordered the Honey Blonde and it covered all my gray, leaving my hair shiney and soft. I quickly ordered two more just to have ready. I did follow the directions to the letter, even used a heat bonnet and made sure my hair was clean. Thank you for making a product that actually does what it says. Grateful in Montana!
Diana M.
CUSTOMER

My hair is extremely happy with your products! I did not use the hair dryer ( as you recommended) . Even without this part of hair coloring the final result was great! I really highly recommend your company and your hair products!
JAI
CUSTOMER
ONC promotes goods that will challenge everyone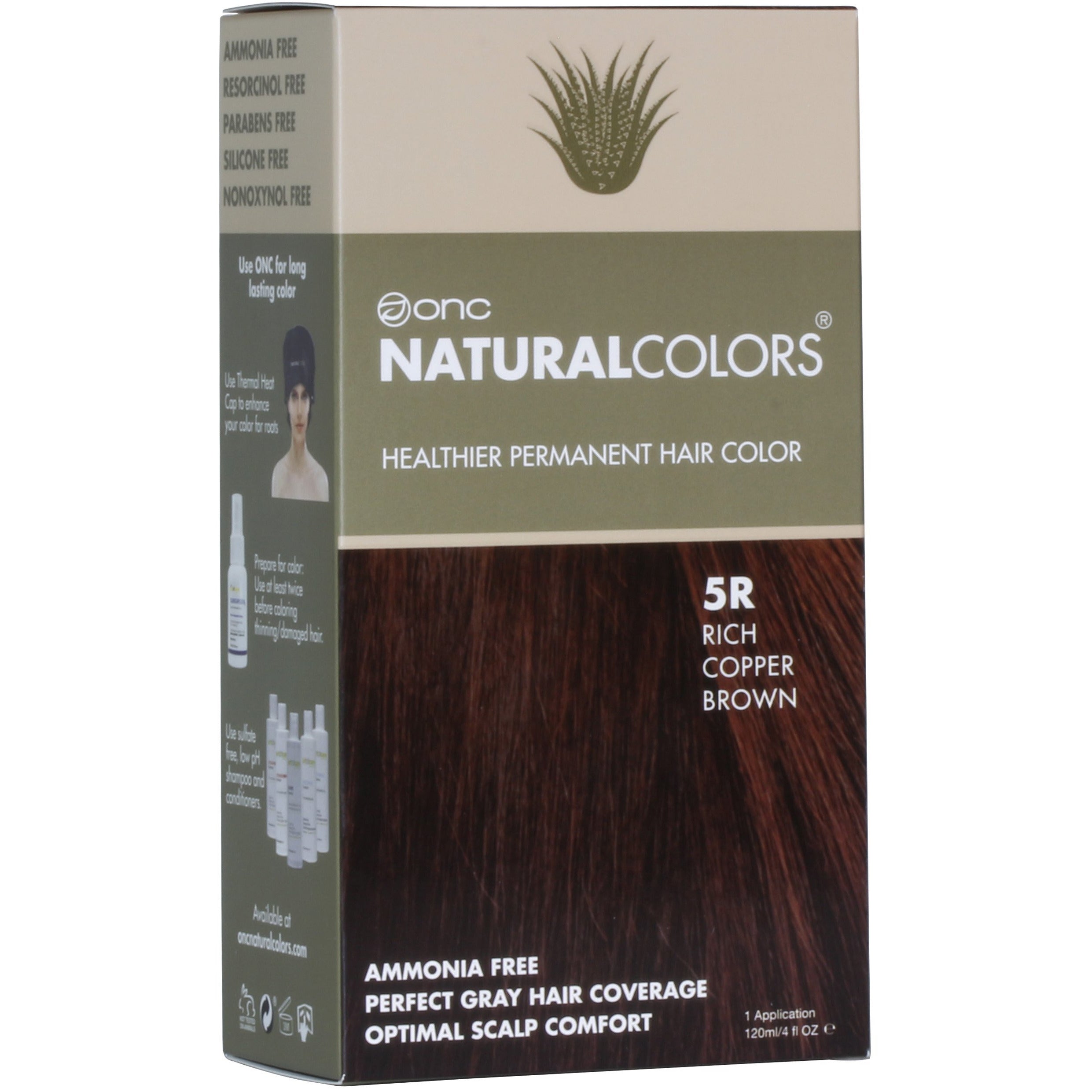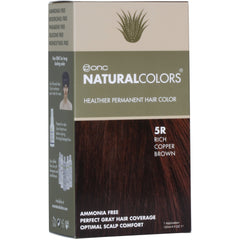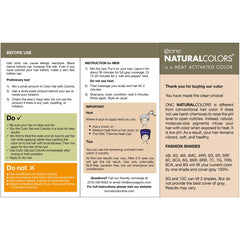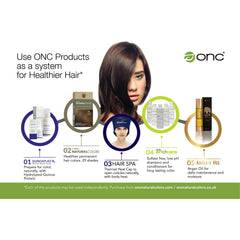 Frequently Asked Questions
What is unique about ONC NATURALCOLORS?

To color hair you need to deposit color pigments into hair. So you need to open the hair cuticles. Instead of using harsh chemicals ONC NATURALCOLORS achieves this by using body heat, or heat from a hair dryer. This does not damage, or break hair.

Is the color permanent?

Yes, it is permanent and will last up to 6 weeks if used as instructed.

What does Hair Color and Hair Care in one bottle mean?

As the pH level is much lower than other colors, ONC NATURALCOLORS is filled with vitamins, essential oils, and herbal extracts that maintain and nourish hair.

Is ONC NATURALCOLORS ammonia and
henna free?

Yes, it is free from ammonia and its derivatives. It is also henna free.

Do you have hydrogen peroxide ?

Yes, but our peroxide is chamomile based and classified as food grade.