7N Natural Medium Blonde Heat Activated Hair Dye With Organic Ingredients 120 mL / 4 fl. oz.
Regular price

Sale price

$ 29.50
onc
NATURALCOLORS® heat activated healthier permanent hair color dye with certified organic ingredients. 2-in-1 Hair Color and Hair Care with added vitamins! Hair coloring kit for home use.

ONC NATURALCOLORS is different from conventional hair color. It does not use harsh chemicals to raise the pH level to open cuticles. Instead, natural, molecule-size pigments infuse your hair with color when exposed to heat. It is low pH. As a result, your hair remains vibrant, soft, and healthy!

NATURAL SHADES will not turn black hair blonde. They will lift 1-2 shades.

1N, 2N, 3N, 4N, 5N, 6N, 7N, and 8N will lift your current color by one shade and cover gray 100%.

With organic argan oil, aloe vera, orange extracts, chamomile, coconut oil, and vitamins. These leave your hair feeling softer, smoother, and shinier!

ONC NATURALCOLORS is as chemical-free as possible and still get permanent results. In short - Organic hair color that works!

How to use the ONC Thermal Heat Cap for ONC NATURALCOLORS hair coloring process
How to use a hair dryer for ONC NATURALCOLORS hair coloring process
Adding 7N To My 8G
My base color is 8G, but since I need extra cover for my gray/white and I like some more depth, I tried adding 1.5 tsps of 7N to my 8G. I like it and want to try 2 tsps next time.
Another excellent color
I turned to ONC Natural Color due to alarming hair loss which my dermatologist attributed to the ethanolamine in another brand "natural color" which used it as a replacement for ammonia but which has turned out to cause 85% more hair loss. Ouch.
I was so thrilled when I found ONC and have been delighted with every single color I have tried, and I am still experimenting.
I have very dark brown hair with a lot of gray. Nothing against gray hair but it is not becoming on me and I shoot for a brown ashy color and my gray becomes kind of like highlights. It does not have the flat dyed harsh look and as it grows out or fades, it blends in much better than the other brands I have tried in the past.
I always mix with Blue Mix and a little from the Ash colors to tone down some of the red.
Each blend has been slightly different, but they have all looked great! And I am having fun varying it a little bit to see if I stumble on the "perfect" one for me - but since they are all pretty close and all beautiful, it feels like I cannot go wrong.
heard it through the grape vine
This is the best hair color ,I have ever used I color my hair maybe every 6 months,so soft,its like my hair comes a live. I had to talk my sister in to this hair color,she gets department store hair dye,and it does not last long on her, I ask her to wait 3 months, before using this onc natual color,she over dye her hair, She may go 3 weeks at the most.I want her to have this on hand, and not that other sh--. If you love your hair ,color it with this, you cant go wrong . Give it a try..Mary Z.
My color was darker than I suspected.It looks like a brown,not what I wanted.
ONC
Leaves hair in good condition. Complicated directions for mixing 2 colors together for white hair. Fairly good color initially But color washes out quite a bit after a few washes. It didn't burn my scalp like traditional color which is why I tried it. Color tends to run lighter than traditional color.
Share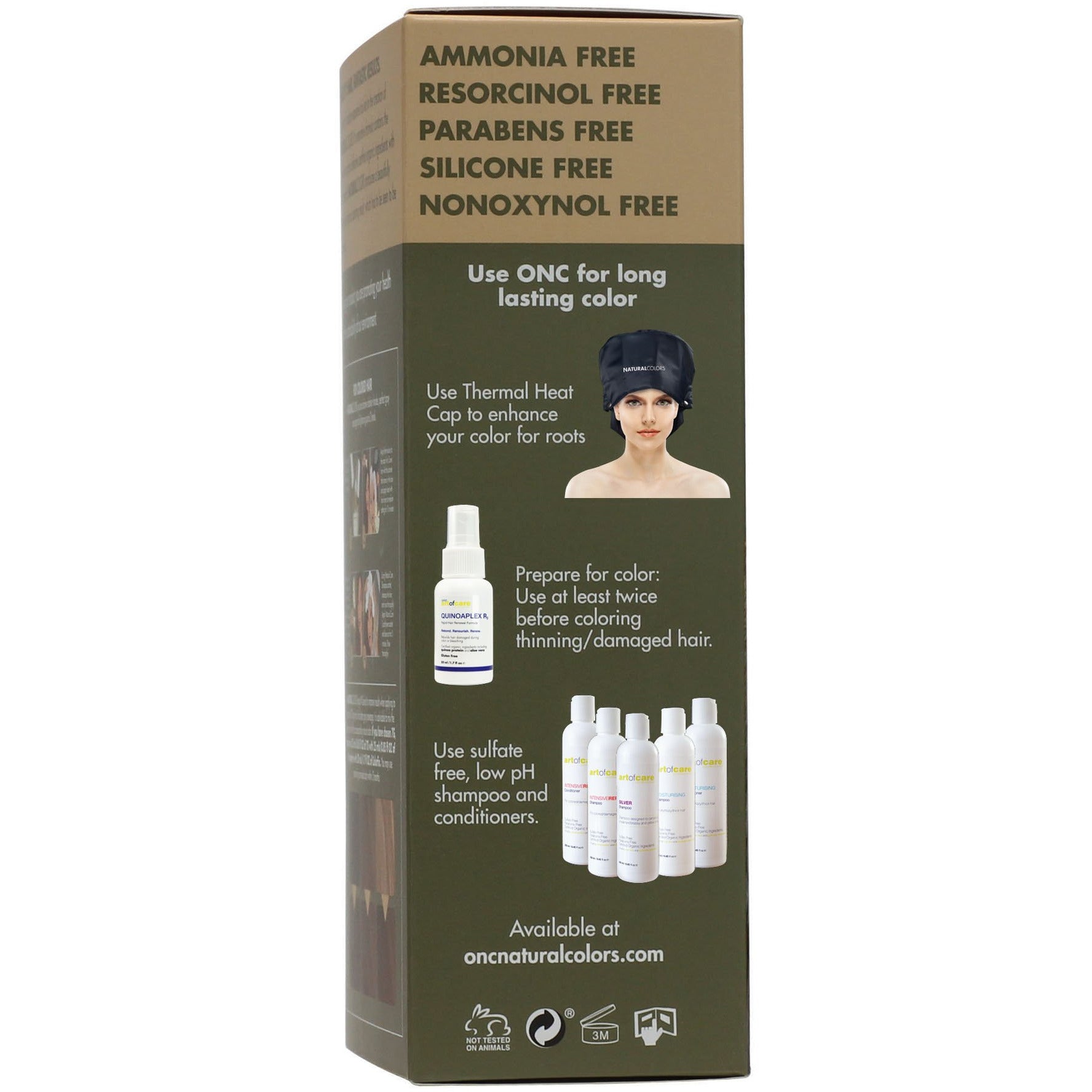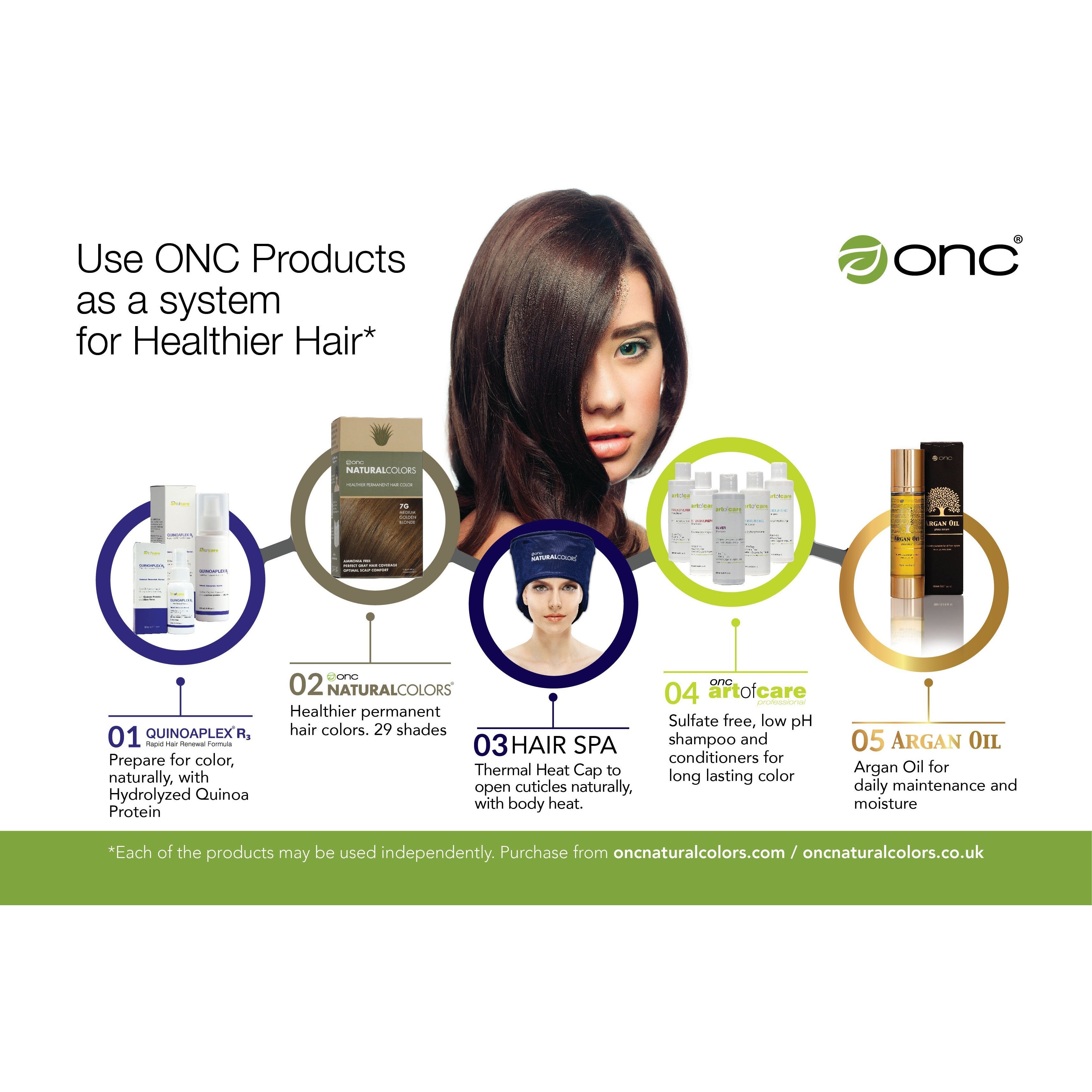 FAQs
How does NATURALCOLORS get into hair?

NATURALCOLORS has a lower pH compared to chemical hair colors with toxic chemicals. Applying heat is necessary to open the hair cuticle in uncolored hair. To get color into your uncolored hair without harsh, toxic chemicals, medium heat from a hair dryer or a thermal heat cap (sold separately) is needed. These soften the cuticle and allow ONC color pigments to be deposited into hair. It does not damage hair or make it fallout.
What does 2-in-1 Hair Color and Hair Care in one bottle mean?

NATURALCOLORS does not have the harsh chemicals other colors have. It has a low pH. Therefore the formula has added vitamins, essential oils, and herbal extracts. These help repair, maintain, and nourish your hair. They would not survive in a chemical hair color. Hence — 2-in-1 Hair Color and Hair Care ... in one bottle!
Why is NATURALCOLORS' low pH so good?

NATURALCOLORS low pH does not open the pores of your scalp. So chemicals cannot seep into your bloodstream. When chemicals get in the bloodstream they end up in your liver. The body cannot clean these from your liver. Because the chemicals that make chemical color stick to your hair make it stick to your liver. This is one reason why breast cancer grows year by year.
Why do I get a decreased demarcation line?

Unlike Hair Colors with toxic chemical which operates at a high pH, swelling the cuticle to force pigments into your hair, NATURALCOLORS moisturizes your hair which softens the cuticle. This allows it to open at a lower pH and enables the color to wind itself through the layers of your hairs' cuticle. It only removes enough color to make room for NATURALCOLORS inside your hair. There is no demarcation line. As the natural ingredients in your hair like protein, pigment and moisture are intact. As a result the color fades over time. Whereas all other colors leaves a blank space. Where the natural protein and pigment of your hair is removed. This then replaced by chemical hair color. ONC NaturalColors only removes minimal amount and replaces it with a formula made up of low pH, organic ingredients.
Testimonials

8N Natural Light Brown

Gentle lightened my hair, nice blonde shade without the damage

Veronica V.
ONC SILVER Neutralizing Shampoo

I have blonde hair and this shampoo does miracles! I leave it on 5-10 minutes and then rinse it and all the brassiness in my hair is gone! I absolutely love this product from ONC!

May
QUINOAPLEX R3 Rapid Hair Renewal Formula

I love this product. I get so may compliments about my hair after I apply this product. I usually spray it on after I towel-dry my hair. My wavy hair looks very healthy and shiny. I look so put together without too much effort.

Jennifer R.
7RN Irish Red

Beautiful color without pain an stinging. Easy to apply and gorgeous color. Restores my natural red hair to my youthful color. I am hooked on ONC color. I highly recommend this for those who want a natural looking color without harmful side effects.

Ed G.
1N Natural Black

I am in love with my results the natural black hair color is ammonia free, leaves your hair silky and smooth. I would again and I highly recommend this product.

Erica L.
Share your moments with ONC. We will choose the winner every month to receive FREE Products
Use #oncnaturalcolors to share your moments on INSTAGRAM